Trump's 'golden' effigy, magic wand in hand, shines at CPAC meeting despite criticisms and controversies
The trump effigy, often seen in white shirt, red tie and black coat, is also seen in this costume. This mannequin is holding a magic stick in the hand.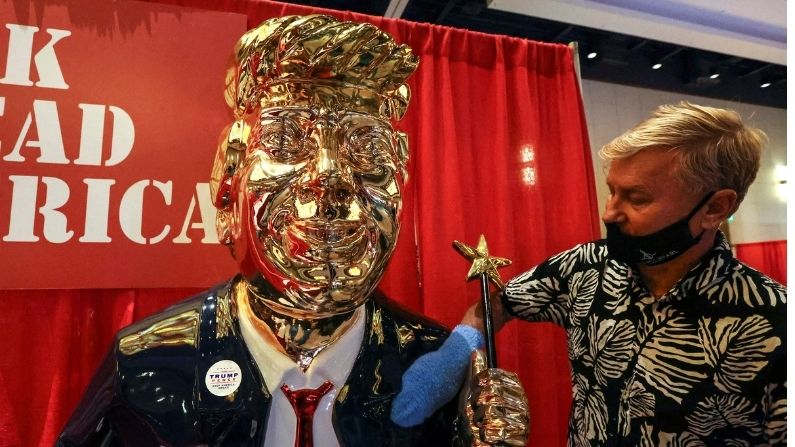 Trump Statue at CPAC Meeting (PTI)
The departure of former US President Donald Trump may have been accompanied by controversies, even though there has been a lot of criticism globally, but Trump remains in the headlines even today. The best example of this is his Golden Statue in the Conservative Political Action Conference ie CPAC meeting. This meeting is going on in Florida, in which Trump's effigy was brought from Mexico for installation.
The effigy of Trump is attracting the attention of social media users. The controversies related to Trump are not affecting his popularity. In the elections held on November 3 last year, the Republican Party had to face defeat under Trump's leadership. Donald Trump faced impeachment twice during his four-year tenure.
Farewell of controversy-ridden trump
Trump's last year as president was filled with turmoil. The 2020s started with the Corona epidemic. Trump faced criticism for his policy of dealing with the epidemic. The attack on the US Parliament on January 6, a few days before the swearing-in after losing the election, stained Trump to incite the mob to attack.
Magic wand in the hand
In spite of all this, the party has kept his effigy in the meeting in honor of Trump. The mannequin of the trump, often seen wearing white shirt, red tie and black coat, is also seen in the same dress. This mannequin is holding a magic wand in the hand. People are taking selfies with this mannequin while many people are also making fun of it.
Mannequin made in mexico
It is worth noting that this mannequin has been made in Mexico. While president, Trump was against Mexico for illegal migration and was talking about building a wall. This mannequin is made by American Jeegan, who lives in Mexico. It took them 6 months to make this mannequin. It weighs 200 pounds. This mannequin is made of fiber glass, which is colored golden with tampa.
Also read: Turkish terrorists trying to do something 'big' with al-Qaeda, 'jihadi network' maintaining on Indo-Nepal border
Also Read: Pakistan Arrests 17 Indian Fishermen, Says- We Warned They Did Not Listen
.