Myanmar's ambassador speaking out against the army at the UN, removed from office by accusing him of 'traitor'
Security forces in Myanmar on Saturday intensified action against Protesters against the coup. Local media say that dozens of people have been arrested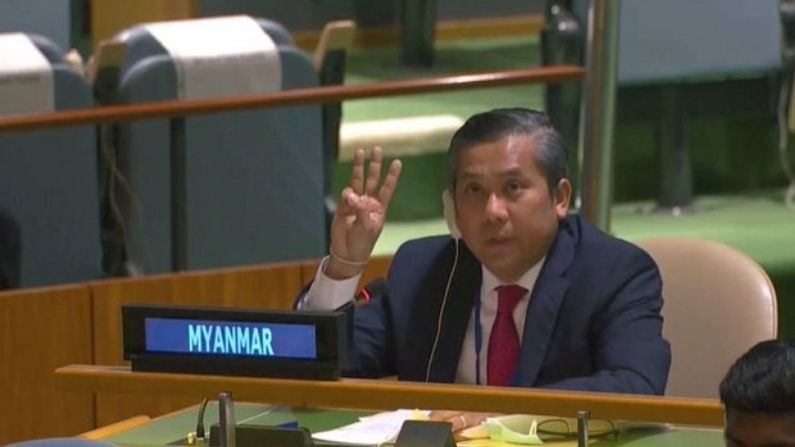 Myanmar Un Ambassador (Photo Credit : Twitter)
Myanmar military rulers have said that they have fired the country's ambassador to the United Nations. A day earlier, the ambassador had sought help to remove the army from power. In an emotional speech, Kyo Mo Tun said that no country should cooperate with military rule unless it hands over power to a democratically elected government.
In Myanmar, security forces on Saturday intensified action against those who protested against the coup. Local media says that dozens of people have been arrested and a woman has been shot in Monavya city. His condition has not been known.
'I am representing the deposed government'
After the army came to power on 1 February, top leaders including Aung San Suu Kyi were removed from power, after which protests began across the country. Speaking at the United Nations General Assembly on Friday, Kyo Mo Tun urged the international community to use 'any means necessary to take action' against the military government to help 'restore democracy'. He said that he is representing the ousted government of Suu Kyi.
American envoy said 'courageous' speech
He said that we need action from the international community to end military coup immediately, stop atrocities on innocent people, return state power to the people and restore democracy. The hall echoed with a thunderous applause after his speech. American envoy Linda Thomas-Greenfield called the speech 'courageous'.
Myanmar state television announced its removal on Saturday, stating that they had 'betrayed the country' and talked for an informal organization that does not represent the country. He has abused the power and responsibilities of an ambassador.
Also read: Corona's UK variant increases Pakistan's troubles, government tells people to follow the rules, get vaccinated
Also read: Maharani, the world's most dangerous serial killer, who shed hundreds of girls' blood for beauty
.