Militants in black clothing at the railway station indiscriminately stabbed with knife, 31 killed, 143 injured
This attack was done at the Kunming Attack railway station when a large number of people were present there (Kunming Railway Station). The security personnel of the station were also among those who died.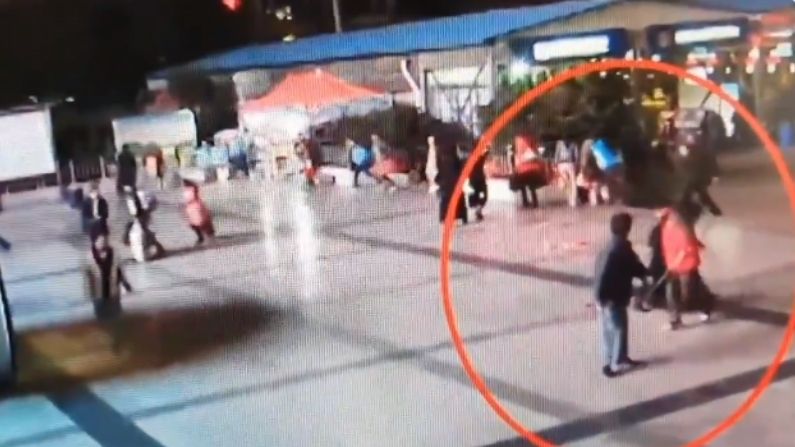 People were attacked in Kunming, photo- Twitter
Kunming Attack: Terrorists often target such places where more and more people are present. A similar case was also reported from Kunming railway station in China. In which terrorists attacked people with knives. They attacked the passengers who were not at fault, who had come for the purpose of traveling only at the railway station (Kunming Attack 2014). Both men and women were included in the attackers. They had taken sharp-edged knives and innocent people were being attacked by them. Police reached there soon after getting information about the incident and four of them died due to bullet injuries while stopping the attackers.
This incident happened on the day of today i.e. March 1 in the year 2014. According to Chinese local time, the incident took place around 9 pm (2014 Kunming Attack). One of these invading women was injured, which was caught by the police. In this incident, 31 people were killed (Kunming China Attack), while more than 140 were injured. Then on March 3, the police announced that after the arrest of the remaining three suspects, this group of six men and two women has now been neutralized. When the attack took place, no one took responsibility for it nor were its wires connected to any organization.
Link was linked to Xinjiang
This group was also being called a Singular Terror Cell. China's local news agency and Kunming government had said that the link to this attack is linked to Xinjiang separatists. The police had said that they had also confiscated the black and hand-made eastern Turkistan flag. Which is associated with Xinjiang Uygar Autonomous Region, for which they want separatist independence. Hamalwar came to the railway station in black clothes, he first stayed in the premises and then went to the ticket lobby. After which they started killing people indiscriminately.
Ten attackers attacked
Initial reports had revealed that the number of attackers is 10, who had a Kunming Knife attack. Seven policemen were also among the total 143 injured. At the same time, two security personnel of the station were included in the dead. The injured were taken to 11 hospitals in Kunming for treatment. The police initially used Tear Gas Shells to stop the attackers, but they still did not stop. After which the police shot four suspects and arrested one. The injured woman, Hamalwar, was taken to the hospital after being taken to Hirsat.
Were also injured
A person who saw these attackers had told that these people were being attacked without thinking. He was not looking at his age. Even those who were injured and fell on the ground, they were being attacked till they died. He also saw a policeman (Kunming Stabbing Attack), who was holding a five-year-old child in his lap. But his legs were also attacked from where the blood was flowing. The government was then told that within ten minutes the SWAT team was dispatched as soon as the attack was detected.
Investigation into the settlements of Uigars
After the attack, Uighurs Kunming Attack were investigated in settlements. Interaction was also held with many people and the group associated with them was also found guilty of this attack. During this time, the Ministry of Public Security had said that it was a terrorist group of eight people. Whose leader was named Abduraheem Qurban. At the same time, Voice of America had said that they had received such little information from official sources and evidence that the attackers were Uygars.
Also read- Hands raised to help an Indian who lost his life in the Singapore factory blast, raised $ 1 million in donations for the family
Also read- After today whenever a 'dictator' will say, only one name will come in your mind- Saddam Hussein
.