Currently, Kamala Harris lives temporarily in the Blair House. The Blair House is located on the other side of the White House. This is the official Guesthouse of the President.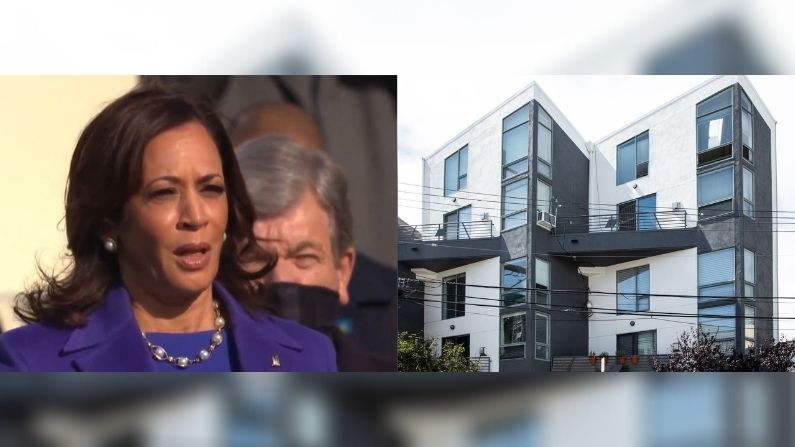 Kamala Harris Apartment (Photo credit : Twitter)
Kamala Harris was recently sworn in as the Vice President of the United States of America. Now there are reports that the Vice President has sold his San Francisco Apartment. It took only 10 days to sell his house. Please tell that after becoming Vice President, he will have to live in the US capital Washington DC, so he has decided to sell his old house.
According to media reports, a buyer bought Kamla Harris's house 10 days after the online listing for $ 7,99,000. This two-storey house of Kamala Harris is very luxurious. Its area is 1,069 square feet. He bought it in 2004 for a price of $ 489,000. Then Kamala Harris became the District Attorney of San Francisco.
A luxurious house was built in 1989
This Vice President's house is located in South San Francisco. The first floor of this house has a living room and a dining room. Also the kitchen setup is also present here. The courtyard, bathroom, chimney and office are also built here. On the second floor of the house there is a master bedroom, large bathroom and plenty of space to walk. It was made in 1989. Kamala Harris bought this building from its original owner.
Vice President lives in Blair House
According to the news, the expenditure of this house every month is about 2.72 lakh rupees. Currently, Kamala Harris lives temporarily in the Blair House. The Blair House is present on the other side of the White House. It is the official guesthouse of the President. This Blair House has 119 rooms, 14 bedrooms, 35 bathrooms, three dining rooms including library, gym and beauty salon.
Kamala Harris owns many more houses besides San Francisco. He also owns a 3,500-square-foot two-bedroom house in Washington DC. According to media reports, he bought a 1,700 square feet house in Washington DC in the year 2017. It is known that Kamala Harris became the Vice President by winning the US elections held on November 3, 2020. She is the first woman of Indian origin to achieve this position.
Also read: The accident occurred, the accident happened: the first accident in the zoo's 30-year history, the employee died due to a hand trunk.
Also read: 140 Democratic lawmakers introduced 'NO BAN' bill, said- 'Trump's decision boosts Islamophobia'
.