Before dying, what did a 15-year-old girl write in a diary, which was read by crores of people, a book printed in 70 languages
A mere 15-year-old girl wrote all that in her diary (The Diary Of A Young Girl), which everyone in the world was surprised by reading. This diary has been liked by crores of people of the world.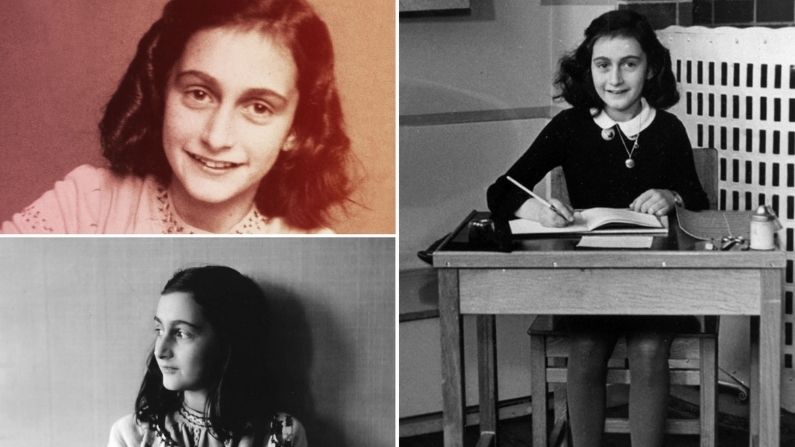 Annie Frank, photo- Twitter
The Diary Of A Young Girl Anne Frank: 'As long as all this is present, this sunlight and this cloudless sky and as long as I can enjoy them, how can I be sad? For anyone who is scared, lonely and sad, it is best to get out, to a place where they are alone, alone… with clouds, nature and God. Then you will feel that it is what it should be. God wants you to be happy amidst the beauty and simplicity of nature. These are the words that a 15-year-old girl (Anee Frank) wrote in her diary 77 years ago. We are talking about Anee Frank Quotes. Whose full name was Annalize Marie Frank.
About the girl who is always happy, most popular in school, very bubbly and more talkative. The one who lived there used to spread happiness. The girl who undoubtedly said goodbye to the world at a young age, but she has also given many types of learning to the world. As long as the world is his thoughts and the story of his life, he will continue to inspire people. Annie used to dream like ordinary girls, after hearing her thoughts, it would not seem that any girl would have thought so 77 years ago. Thoughts like today's girls, who wanted to breathe in the open air, wanted to live their lives freely, wanted to embrace freedom and wanted to become a journalist as well as a writer.
Forced to stay in secret place
Annie did not like to be a domestic woman. Annie, born in Germany, was also a victim of atrocities with the Jews. During this time around 60 lakh Jews were killed by putting them in the gas chamber, keeping them hungry and doing excessive work. Whereas more than 1.5 crore Jews were forced to live in the midst of difficulties.
During the second world war, Annie had to hide with her family at a secret place. Because the German soldiers were searching and killing the Jews. So let's know Annie's story today. There are a total of 8 characters of this story (Anne Frank The Whole Story Cast).
The eighth character is Frits Pheffer
These include Annie's mother Edith Frank, her father Auto Frank, and her sister Margo Frank. Apart from these, at the same secret place (Secret Annex), Hermann van Pales, his wife Auguste van Pales and their son Peter Van Pales also lived. Annie is called Van Dans in her diary by Van Pales. The eighth character of the story is Fritt's Pheffer, whom Annie calls Albert Düssel in the diary, who was Van Pelles' dentist.
The story begins from the year 1929. On 12 June this year, Annie was born in Frankfurt, Germany. His father was a lieutenant in the German Army in the First World War and later became a businessman. This family was not conservative, was very liberal and extremely wealthy. Hitler (Adolf Hitler) may have come to power in 1933, but before that he was working to spread hatred.
The whole family came to the Netherlands
The first torture camp was also opened in March 1933. Adolf Hitler started killing Jews (Holocaust). Germany was ruined in the first world war. Hitler blamed the Jews for this and said that wherever these people meet, kill them. In the summer of 1933, the Frank family came to the Netherlands, at that time Annie was four and a half years old. Then in September 1939, the Second World War started.
Germany attacked Peland, Britain and France declared war against him. By May 1940, Germany invaded the Netherlands, France and Belgium. Meanwhile, on 12 June 1942, Annie received a red and white check (Anee Frank Journal Entry) on the occasion of her 13th birthday. After this, difficulties started growing for the Frank family.
When summons was sent to Margo
Margo was summoned on 5 July 1942 to visit the Nazis' labor camp. After which the Frank family had to take a decision to stay in hiding. These people stayed in a secret place in the office building of Auto Frank. There was a door at this secret place, which was a small place to stay as soon as it passed. On 13 July this year, the family comes to live with the family of Anne Frank Van Daan.
These people were also originally Jews from Germany, living in Netherlands (Netherlands). Since the Netherlands is no longer a safe place for them, so they decided to stay hidden with Annie's family. Then come on November 16, 1942 to live with Doctor Dussell. After coming to the secret annex, Annie starts writing a diary, she tells her thoughts as well as about every single incident in the secret annex. He named his diary as Kitty.
Rewritten and edited the diary
In the diary, Annie also has tales of Nokzhank being with her mother, sister, Mrs. Van Dans, and Dussel. Along with this, incidents of fear of noises such as bullet and cannon shots during the fight between the soldiers are also written in it. On March 28, 1944, Dutch education minister Garrit Böxteen announced in a radio program that Annie wanted to become a writer, saying that post-war letters and diaries would be used as testimony to this devastated scene.
What was it then, Annie wanted her diary to be published, so she rewrote it and edited it. During this, his, Margo and Peter's studies also continue. Let me tell you that Annie was an average student in studies while Margo was quite intelligent. Annie wrote in the diary about everything from school studies to her wishes. It also told in the diary how she used to see sunlight and stood under the sky, how her clothes were getting shorter and she was not able to buy new clothes.
Annie falls in love with Peter
All these people who once lived the life of the rich had to go hungry. Annie also fell in love with Van Dans' son Peter during this time, both of them used to talk to Jungle for hours. Peter was a very quiet boy, troubled by his parents' quarrels. At the same time, Annie was closer to her father.
They were also helped by some German people while hiding, they used to give them ration items, they used to bring clothes and other necessities on the occasion of festivals and birthdays. All of these assistants worked in Auto Frank's company, named Victor Kagler, Johannes Klyman, Johann Vascuzzi, Beep Vascuzzi, Meep Geese, and John Geese.
Last page written on 1 August
"People can speak to keep you silent, but it cannot stop you from voicing your opinion." Such were Annie's thoughts. The first entry of his diary is dated 12 June 1942 and the last entry was on 1 August 1944. Since all these people were arrested on 4 August and sent to concentration camps. They were first sent to the Westerbork Transit Camp in Holland. However, it is not yet clear who told the German soldiers about them.
Sometimes it is also said that he was arrested during the search of buildings. All these people were so unfortunate that the train from which they were taken to the torture camp was the last such train. All the Ashwitz concentration camps were brought first and then all the men and women were segregated here. Annie, Margo, Mrs. Van Pels were sent to the Burgeon-Belsen torture camp, while Edith Frank was kept in Ashwitz.
Edith dies due to hunger
Later on 6 January 1944, Edith died of hunger in this camp. But what must have been the moment when Annie was taken away from her mother. On January 27, 1945, Soviet Union soldiers liberate Auto Frank from Ashwitz. Meanwhile, in February-March, 1945, a disease named Typhus spreads in the Barjan Belsen camp because there is a lot of dirt, there is nothing to eat properly nor there is anything to avoid the cold.
Here the best wages were done and if someone stopped for two seconds to breathe, then they were shot straight. Annie and Margo become ill with this disease. First Margo and then Anee Frank in Concentration Camp died. Today the tomb of both sisters is made at the same place. Let me tell you, Margo was three years older than Annie.
Why the whole family was unfortunate
Unfortunately, it was only on April 12, 1945 that the British troops liberated the Barzan Belsen camp. But by then Annie and Margo were killed. Then on 8 May 1945, Germany surrendered. Auto Frank searched all the people a lot but he was left alone alive (Anee Frank How Did She Die). Talking about Peter (Anee Frank and Peter), he died on 5 May 1945 while taking Ashwitz from Mothosan, just three days before the camp was liberated.
After confirming the death of Annie and Margo, Meep gives Annie's diary and notes to Auto Frank. Meep hoped that she would give all this to Annie but Annie was no longer there. Actually, when the German soldiers were taking everyone, then Annie's diary fell on the same place where these people were hiding. When Meep, who works in his office, came here, he got this diary. Then Auto Frank fulfills his daughter's dream of becoming a writer and gets her diary published.
Annie's first diary is with the Dutch title – 'The Secret Annex: Diary Letters from June 12, 1942 to August 1, 1944'. Later it is then published in more than 70 languages ​​and the diary is published as 'The Diary of a Young Girl Annie Frank'. After reading the diary of her daughter, Auto says that she had no idea how deeply her daughter (Anee Frank Ki Diary) used to think and how much things were contained within her.
What did friend Nanetti say?
There is also an anecdote that Annie met two of her friends at the Concentration Camp, named Hanneli Gosler and Nanetti Blitz. Nanetti says that she was surprised to see Annie, the girl who always laughs, joked and made others laugh, she became very sad and calm. He was convinced that no one would be left alive now. All his hopes were broken. Nanetti had also told that Annie had become very weak.
Annie's diary has been read by crores of people all over the world, some pages of this diary are also taught in English subjects in schools of India. There is a trust in the name of Annie, who helps the needy. Annie's house has become a museum today, she is remembered as the victim of atrocities with Jews who have taught people to live life with their words.
Also read- Britain will now have vacancy on the basis of age, anger among frontline workers like police-teacher
Also read- Pakistan again made its own disrespect, a new video of Wing Commander Abhinandan released with substandard editing
.