After today whenever a 'dictator' will say, only one name will come in your mind- Saddam Hussein
Saddam Hussein's biographer Con Coughlin has written that Saddam has a Quran written with his blood in a mosque. All 605 pages of this Quran are kept in a glass frame so that people can see it.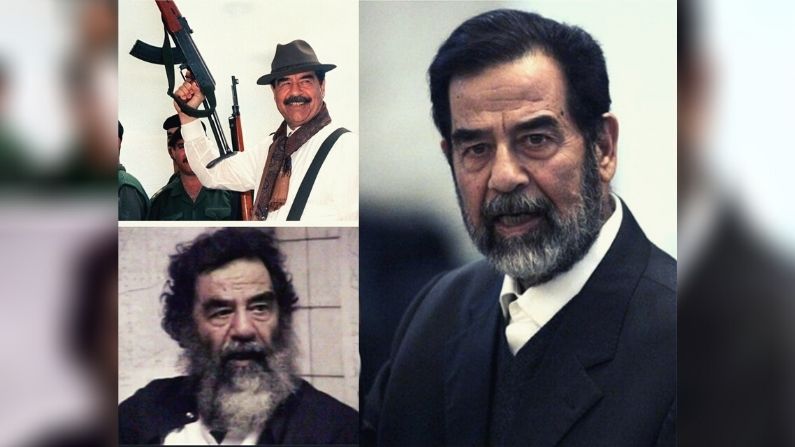 Saddam Hussein (Photos Credit : Twitter)
The world remembers only two people – the Mahatma and the dictator. Hearing 'Mahatma' usually brings Mahatma Gandhi's name to Zehen but 'dictator' (Dictator) What do you think about listening? From Genghis Khan to Ugandan dictator Edi Amin, Adolf Hitler and Kim Jong Un, this world saw many dictators, but in the meantime there was a dictator who made friends even in the last days of his life. , A dictator who was hanged after being found guilty in the genocide case, a dictator who was considered by some to be the greatest 'villain' in history and some 'hero', after reading this story, you will get ' Hearing the dictator, only Saddam Hussein will be remembered.
Saddam Hussein ruled Iraq for more than two decades. He was hanged in northern Baghdad on December 30, 2006 at 6 am local time after being found guilty against humanity. After being hanged, as if a year-long festival in Iraq has been freed from any bondage. People were celebrating everywhere, firing in the air, hugging. Saddam was convicted for the 1982 Dujail massacre. During this, he had 148 Shias killed.
605 pages of Quran written with 26 liters of blood
Saddam Hussein was ousted from power in 2003 after the US and UK forces attacked Iraq, but his reign was highly talked about and disputed. In the photographs of his youth on the Internet, Saddam is seen mostly in suit-boots and clean shaves. He built many big mosques in Iraq. According to a BBC report, Saddam Hussein biographer Con Coughlin has written that a Quran written with his blood is kept in a mosque built by Saddam. All 605 pages of this Quran are kept in a glass frame so that people can see it. According to the cleric of the mosque, Saddam gave his 26 liters of blood for this for 3 years.
Nuclear scientists used to investigate food
According to the report, Amazia Baram, who wrote a book on Saddam, has written in his book that he used to be afraid of killing Saddam by poisoning him all the time because many of his enemies were killed in the same way. A team of nuclear scientists used to check the poison in the meat coming to eat in Saddam's palace.
Saddam had about 20 palaces. Each time three meals were made every day, irrespective of whether Saddam was present in the palace or not. Saddam was very cautious about his dress. He never came to the public stage wearing eyeglasses. When he had to give a speech or give an address in front of the people, then a speech was written in big letters on the papers in front of him. So big that only two or three lines could come on one page.
Officers succumbed to the dictator's anger
Many members of Saddam's cabinet fell victim to his craze. Once a senior army officer came out of the mouth for Saddam. For this, the officer and his son were sentenced to death. Not only this, the officer's house was demolished and his widowed wife and other children were thrown on the road. Similarly, a cabinet minister was seen by Saddam looking at the clock during the meeting. After the meeting, the minister was asked, 'Are you in a hurry?' To symbolically insult Saddam, the minister was imprisoned in the same room for two days and then dismissed from office.
World's hardest security
Kamela Hanna, who was Saddam's bodyguard for 20 years, completed the remaining duties for Genzen Saddam, as well as tasting the food served for him, to make sure there was no poison in it. The special thing is that he was the son of a cook who cooked food for Saddam. He also had to taste Saddam's food because Saddam knew that the cook could never add poison to his food because his son tasted it first.
Saddam's security can be gauged from the fact that at times he used to take part in public events in his multi-faceted manner. It even goes so far as to say that in 1984 one of his daughters-in-law was murdered on the suspicion that he was Saddam. They did not trust Iraqi doctors. Saddam used to go abroad for treatment.
American soldiers also cried before hanging
In the last days before the execution, American soldiers stationed under Saddam's security were among the last of his life's friends. These soldiers were called 'Super 12'. According to the BBC report, one of these soldiers, Will Bardenwerper, wrote in his book that when Saddam was going to climb the gallows, all the soldiers who were protecting him had tears in their eyes. A soldier in the book, quoting Adam Rogerson, wrote that he never saw Saddam as a murderer. He looked like his grandfather.
It is written in the book that in the last days his behavior was very polite unlike any cruel ruler. Saddam also narrated his son's anecdote. Once, his son opened fire in the party, in which many people were killed. To punish the son, Saddam set all his cars on fire. Saddam was laughing loudly as he saw the burning of expensive cars of millions.
'I'm your brother from today'
An American soldier told that when his brother died, Saddam hugged him and said, 'I am your brother from today'. Saddam said to another soldier that I am ready to bear the expenses of your son's education if I get permission to use my money. Saddam used to ask soldiers about his and his personal life. Gradually, the relationship of friendship between American soldiers and Saddam Hussein continued to develop and a positive atmosphere was created in the jail.
Saddam wanted to love
These soldiers mourned after Saddam was hanged. After his execution, people misbehaved with his body. After the death of American enemy Saddam Hussein, these soldiers were so depressed that one of them even resigned from the army. Before his execution, Saddam was very disappointed. Saddam hoped that he would not be hanged. He wanted to make love to a woman after getting out of jail. He once again wanted to get married.
Death aroused when 'dictator' broke
On 30 December 2006, Saddam Hussein, who was hoping for independence, was awakened at 3 am and told that he would be hanged shortly. Hearing this, the cruel dictator with forced intentions felt himself very weak. Probably as weak as never before in life. The dictator, who was under strict security all the time and dodged the death several times, had come to awaken himself from sleep. Saddam bathed and prepared to be hanged. Finally at 6 in the morning Saddam Hussein was hanged.
Also read: Missile became a fireball in the air, see how Saudi thwarted a big attack
.