So many rules have changed from today, the effect is going to be directly on you, definitely know
Rules changing 1 March: The rules of many banks have changed from today. LPG gas has again become expensive by 25 rupees. Apart from this, more rules have changed, which will have a direct effect on you.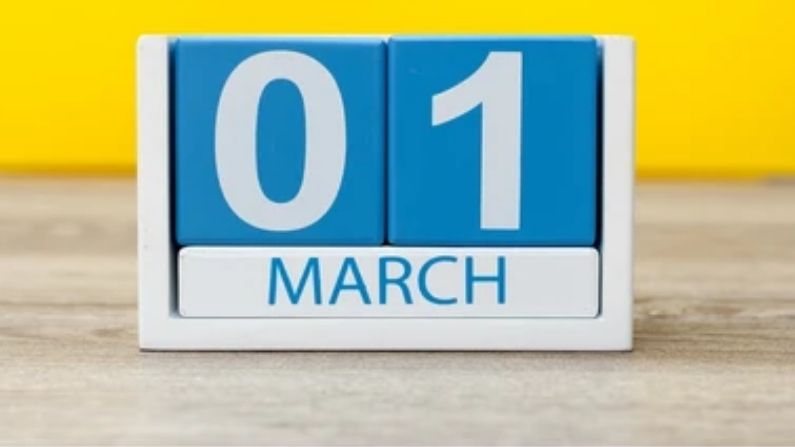 Many rules have changed from today and by the end of this month you have a chance.
Today, March is the first date of the month and the first day of the week. Many rules have changed since today. Change rules are going to have a great impact on your life. This month is also special because it is the last month of the financial year 2020-21. The new fiscal year will start from 1 April. In such a situation, it is important for you to keep information about all those things which have changed from today or will change after March 31. Know about the same in this article.
LPG Gas Price has increased once again today. Domestic gas has become expensive by 25 rupees today. This is the fourth increase in the last one month and a total of 125 rupees has been raised. After today's boom, now the rate of domestic gas in Delhi has increased from 794 to 819 rupees. The new price in Mumbai is 819 rupees, 845.50 rupees in Kolkata and 835 rupees in Chennai. In the month of January, the oil marketing companies did not make any change in the LPG gas price hiked. However, before that there was a increase of 50-50 rupees twice in the month of December. In the month of February, the price went up on three different occasions. The total increase was 100 rupees. Firstly on February 4, there was an increase of 25 rupees. After that there was an increase of 50 rupees on 14 February. At the same time, on 25 February, it had increased by 25 rupees.
For Bank of Baroda customers
Bank of Baroda has warned its customers that the IFSC codes of e-Vijaya and e-Dena will not run earlier and will be closed from 1 March 2021. Bank of Baroda has told its customers that it is very easy to get the new IFSC code. The bank has also shown an easy way for this. The customer has asked the customers to go to the bank's website for new codes or resort to the message. The bank has also given a toll free number for this which is 18002581700. The mobile number 8422009988 has been given by the bank for the new IFSC code.
Punjab National Bank for customers
Apart from Bank of Baroda, Punjab National Bank (PNB) is also making changes in the rules related to IFSC. Punjab National Bank is going to change the old checkbook and IFSC or MICR code of its associate banks Oriental Bank of Commerce and United Bank of India. Although the old codes will work till March 31, but the bank has asked its customers to get new codes or else there may be problems later. PNB has sent a tweet to the customers to get a new IFSC code and checkbook till 31 March.
For SBI customers
It will be mandatory for SBI customers to get KYC of their bank account from March 1 (mandatory for SBI customers). Customers who do not get their account done from KYC time will not get the money of subsidy received under government schemes. The bank has already issued orders in this regard.
Fastag will no longer be available for free
As more and more people use Fastag, due to this, NHAI announced to distribute Fastag on toll plaza for free till 1 March. After that it will not be available for free. 100 rupees will have to be paid for this. Fastag has been made mandatory on 16 February in the entire country. Now if it is not installed in the car, then double toll will have to be paid at the toll plaza
GST Annual Return Date Extended
Apart from this, the government extended the deadline to fill the Goods and Services Tax (GST) Annual Return (Annual Retruns) for the financial year 2019-20 till 31 March. This is the second extension given by the government. Earlier this deadline was extended from 31 December 2020 to 28 February 2021. In view of the difficulties faced by taxpayers in filing returns within the deadline, the Finance Ministry said in a statement, the government has filed the GST Return-9 (GSTR-9) and GST Return-9C (GSTR-9C) for 2019-20. And has increased. This extension has been done with the approval of Election Commission in the deadline.
Link Aadhaar to bank account by 31 March
The Finance Ministry has also made it clear that by March 31, 2021, it is necessary to link all banks with their Aadhaar card. Finance Minister Nirmala Sitharaman has said that it is necessary to link Aadhaar and bank accounts for financial inclusion and to provide benefits of government schemes to the people. Although this work has been completed in many banks, but still some banks have to link Aadhaar and account. The Finance Ministry has instructed all the banks till March 31 that it is necessary to link the account and Aadhaar.
Also read, US Stimulus Package is not good for India, petrol-diesel and domestic gas may increase the price!
Also read, SBI is offering a chance to buy property cheaply, the process will start from March 5
.