Construction personnel at work on the costal road construction site in Mumbai on December 30, 2022.
| Photo Credit: AFP
A sharp 61.2% sequential rise in capital spending by the Central and State governments lifted fresh investment plans announced in the third quarter (Q3) of 2022-23 to ₹7.1 lakh crore, even though private sector investments dropped 41% from ₹6.31 lakh crore in Q2 to ₹3.71 lakh crore between October and December 2022.
Despite a 15.5% quarter-on-quarter decline in new investment plans in Q3 of the year, total investment projects in the first nine months of 2022-23 have crossed ₹21 lakh crore, 53.2% higher than 2021-22 and nearly 2.5 times the investment plans announced in the pre-COVID year of 2019, as per the latest projects survey by investment monitoring firm Projects Today.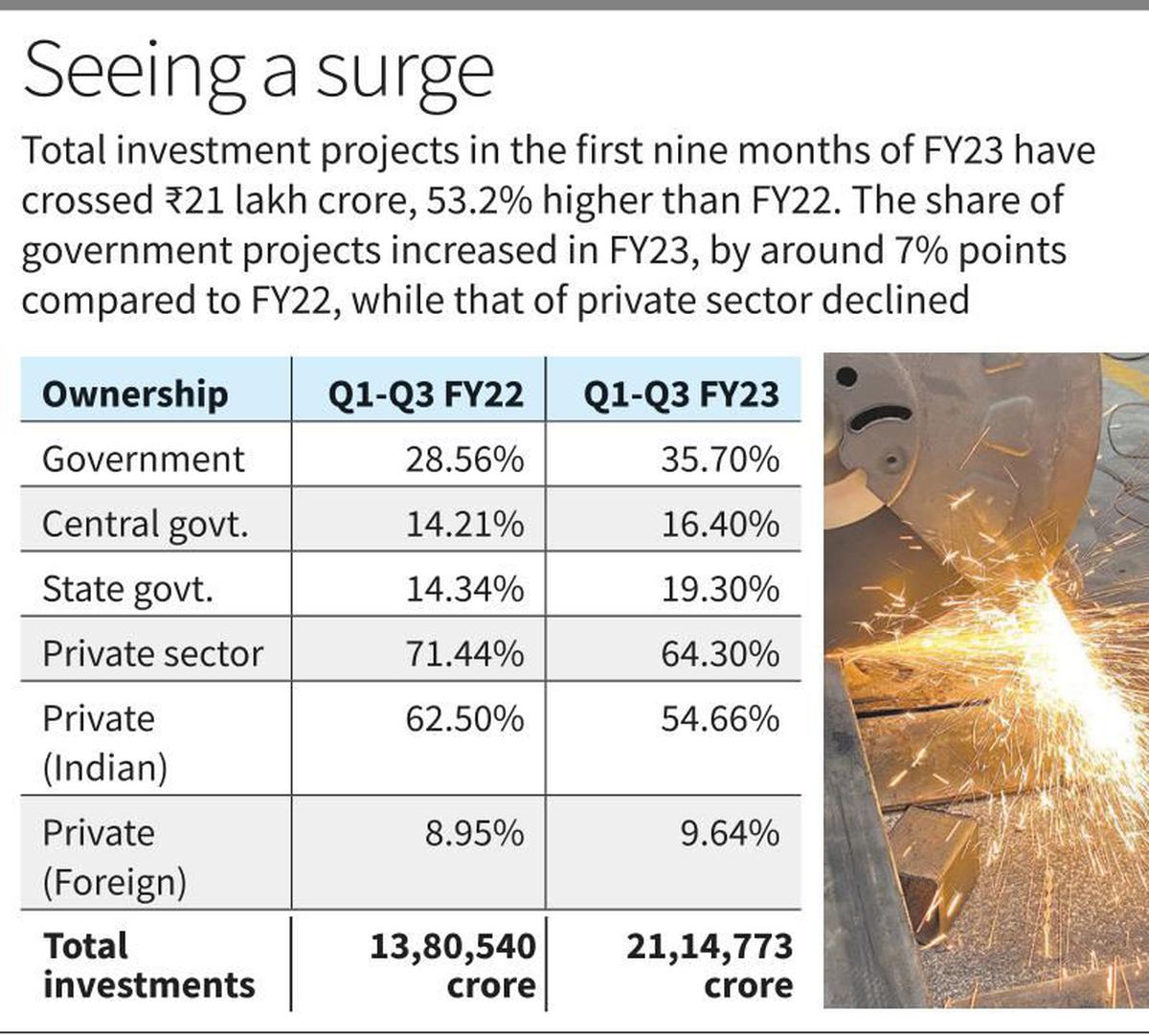 The number of new projects announced in 2022-23 is 7,555, a tad lower than the 7,978 projects in the first nine months of 2021-22. But big-ticket private investments and higher capex outlays from government agencies lifted the total investment to ₹21,14,773 crore compared to ₹13,80,540 crore over the same period a year earlier.
'Wait-and-watch policy'
Private sector investment project numbers dropped from 3,585 projects in April to December 2021 to 2,787 in 2022-23 so far, but the value of investments was ₹13.6 lakh crore, almost 38% higher than 2021-22.
"The fall in the number of private projects shows that a number of private companies, despite experiencing high-capacity utilization and having enough resources, are adopting a wait-and-watch policy to unravel their capex plans. Rising input costs, hardening interest rates and the slowdown expected in developed economies are the headwinds making mid-size Indian companies go slow on their investment plans," Projects Today CEO and director Shashikant Hegde told The Hindu.
Confidence booster
However, the scale of the total fresh capex commitments made during Q1-Q3 this year should not only raise the confidence level of foreign investors but also make the mid-size Indian companies, who are not investing heavily currently, line up their investment plans in 2023-24, he pointed out.
In the first nine months of 2019-20, new investments worth ₹8.68 lakh crore had been announced, with the private sector accounting for less than half of the outlays. In Q1 to Q3 of 2021-22, private sector investments constituted 71.4% of total investments, with their share declining slightly to 64.3% in 2022-23 as government capex has nearly doubled year-on-year to ₹7.55 lakh crore.
States still struggling
"While fresh investments so far this year have grown an impressive 143% over pre-pandemic levels, we do not see a corresponding increase in number of new projects during the same period as they remained almost at par with such figures for Q1-Q3/FY20," noted Mr. Hegde. That the number of new infrastructure projects by State government agencies have seen a major fall signals that States have not yet fully emerged from the pandemic-induced financial crunch, he said.
Barring the mining sector, which saw a 28% dip in investments year-on-year, all other major sectors posted positive growth in terms of fresh investments during the first nine months of 2022-23. Outlays for irrigation projects rose nearly five times, but over a low base from 2021-22, while investments in electricity, manufacturing and infrastructure, grew 64%, 55% and 50.6%, respectively.