Vegetables on sale at Azadpur Mandi in New Delhi on July 12, 2023.
| Photo Credit: PTI
India's retail inflation hardened in June to a three-month high of 4.81% from 4.31% in May, driven by a spike in food price inflation to 4.5% from less than 3% in the previous month, owing to rising costs faced by households for items like cereals, pulses, milk and tomatoes.
While the pace of consumer price rise in June broke a four-month streak of moderation from the 6.5% uptick recorded this January, urban consumers faced nearly 5% inflation in June with food price inflation nearly doubling from May's 2.4% level to 4.3% last month.
June marked the fourth month in a row that retail inflation has stayed below the Reserve Bank of India's (RBI's) upper tolerance threshold of 6% for consumer price rise, but economists believe the ongoing upturn in vegetable prices and the "flooding plus uneven monsoon" situation in the country could exacerbate food price pressures on headline inflation.
Also read: Data | Parsing the inflation story of the past year
While the central bank is unlikely to shift from its hawkish 'pause' on interest rates at next month's monetary policy review, this trend may push the prospect of rate cuts further into the horizon.
"The spike in vegetable prices is set to push the retail inflation to an uncomfortable 5.3-5.5% in July," said Aditi Nayar, chief economist at rating firm ICRA, who believes the vegetable price shock could result in an overshooting of the 5.2% average retail inflation projected by the RBI's Monetary Policy Committee for the July to September quarter.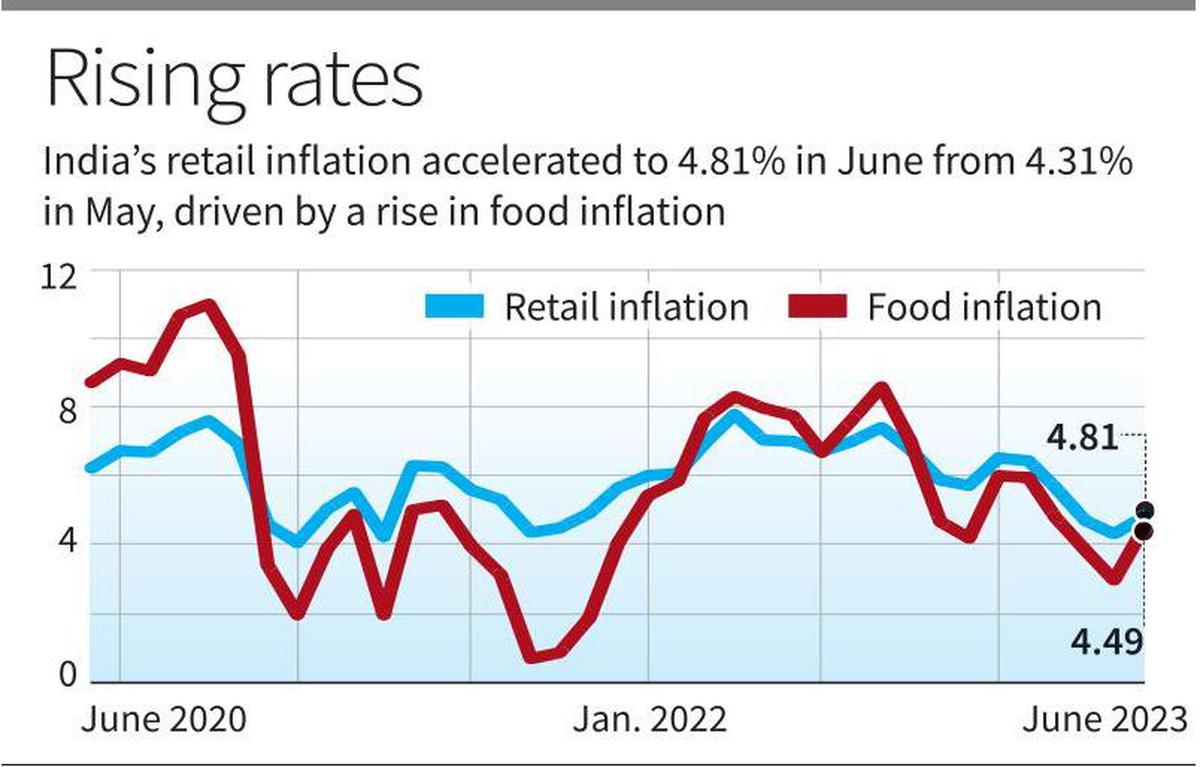 Vegetables, in fact, remained in disinflation territory in June but only just, with prices just 0.1% lower than a year ago, compared to 8% lower year-on-year in May.
The "tomato shock" would mean vegetable price inflation would resurge sharply this month, while cereals and pulses will also remain under pressure as the area under irrigation is lower so far this year, cautioned Bank of Baroda chief economist Madan Sabnavis.
June's Consumer Price Index surge comes on top of the 7% inflation recorded in the same month last year, when the Consumer Food Price Index had climbed 7.75%. Despite the high base, cereals recorded an inflation of 12.7% this June, breaking a three-month streak of moderating prices. Spices recorded a sharp 19.2% inflation in June, while pulses prices rose 10.5%, milk by 8.6% and eggs by 7%.
Edible oil prices, which had shot up after the Russia-Ukraine conflict broke out last year, helped cool the overall food inflation print, recording an 18.1% drop in prices from June 2022 levels.
Among the 22 major States, 13 recorded an inflation rate below the national average of 4.8% in June, but four States recorded 6%-plus inflation, led by Tamil Nadu (6.41%), and followed by Uttarakhand (6.32%), Bihar (6.16%) and Haryana (6.1%).
"The path ahead looks grim given the progress of monsoon and the spread across key areas in the Deccan Plateau region," Mr. Sabnavis noted. Crisil chief economist Dharmakirti Joshi underlined that July and August are critical months for agriculture. "We will wait to watch how rains pan out," he concluded.