Union Commerce, Industry and Textiles Minister Piyush Goyal on Friday unveiled a new Foreign Trade Policy that moves away from providing incentives to exporters, but lowers a few costs for smaller firms and promises swifter clearances, along with a one-time amnesty scheme for export obligation defaults.
Replacing the extant policy that had been in place since 2015, the new policy kicks in from 2023-24 and aims to almost triple India's goods and services exports to $2 trillion by 2030, from an estimated $760 billion in 2022-23.
India's exports were $435 billion in 2015-16 when the previous policy was introduced and have grown nearly 75% to an estimated $760 billion in 2022-23, Director General of Foreign Trade (DGFT) Santosh Kumar Sarangi said.
Union Minister Piyush Goyal during the unveiling of Foreign Trade Policy 2023.
| Video Credit:
ANI
No major new schemes
The new policy will have no sunset date and will be tweaked based on the emerging world trade scenario and industry feedback. While the policy will be open-ended, the schemes sanctioned under it will be time bound.
There are no major new schemes, barring a one-time amnesty under the existing Advance Authorisation and Export Promotion Capital Goods (EPCG) schemes, that allow imports of capital goods subject to specified export obligations.
Open-ended policy
While the industry noted that there was precious little in the policy for services exporters, the Minister said that goods exporters need to work a bit harder to maintain their growth momentum.
"We will achieve $2 trillion in exports by 2030, but it shouldn't be that merchandise exports are outperformed by services exports," Mr. Goyal remarked.
"We have ensured there is no end-date to this policy to be able to update it as and when required. The approach is to move from an incentive-based regime to a remission of taxes regime," Mr. Sarangi said.
"We are looking at improving the ease of doing business by digitising applications, reducing timelines for processing applications and lowering transaction costs for exporters. The application fee is being reduced for Advance Authorization and EPCG Schemes for MSMEs, which will benefit 55% to 60% of these schemes' beneficiaries," Mr. Sarangi added.
New growth areas
Opening up a new area of potential exports, the policy has included "merchanting trade" within its ambit. "Exporters in India can source goods from another country and send them to a third country without touching Indian shores. This will also enable exports of restricted goods," Mr. Sarangi noted.
"There is a focus on simplifying policies to facilitate export of dual-use high-end goods and technology such as UAVs [unmanned aerial vehicles]drones, cryogenic tanks and certain chemicals," he said.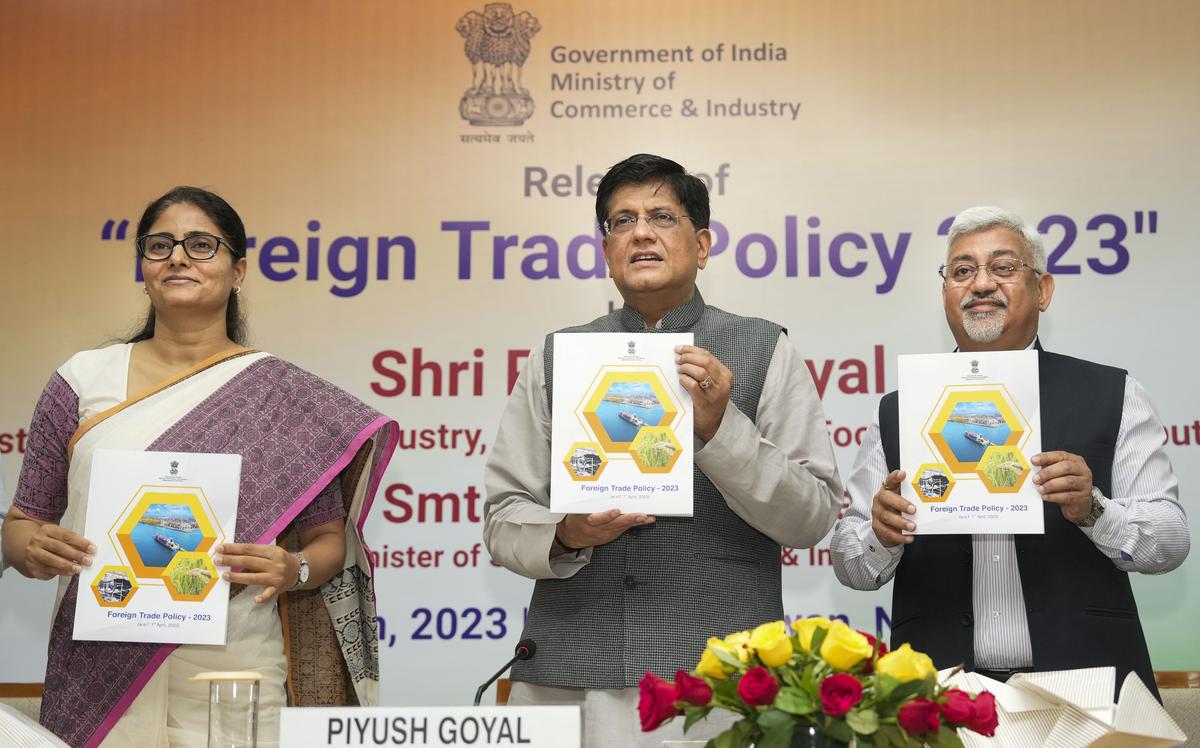 Union Commerce and Industry Minister Piyush Goyal with Minister of State Anupriya Patel and Commerce Secretary Sunil Barthwal releases 'Foreign Trade Policy 2023', in New Delhi, on March 31, 2023.
| Photo Credit:
PTI
One-year amnesty
"We are also coming up with an attractive amnesty scheme for exporters that have not been able to fulfil their obligations under the EPCG and advance authorisation schemes. This is the first amnesty scheme since 2011-12, and can help exporters close their unfulfilled obligations and raise exports going forward," the DGFT added.
These two schemes will continue with process tweaks, including a reduction in export obligations for some items pertaining to green energy development.
"One of the most litigated issues, pertaining to non-fulfilment of export obligations under the Advance Authorization and EPCG schemes, can now be settled under the new amnesty scheme," noted Shashi Mathews, partner at IndusLaw. However, the actual quantum of benefit under the scheme will only become clear once the fine print is known.
Among its export promotion initiatives, the Commerce Ministry has included the push to drive international trade settlement in the Indian Rupee (INR), granting benefits to those exports that are paid for via the rupee.
Outreach Plan
A Special advance authorisation scheme is being launched for the clothing and apparel sector so that they can react to market demands and fashion trends faster. Other mechanisms like star ratings to recognise exporters will be rejigged to lower qualification thresholds.
Four towns in Uttar Pradesh — Faridabad, Moradabad, Mirzapur and Varanasi — were announced as centres of export excellence for their performance in the apparel, handicrafts, handmade carpets and handlooms, respectively. The new trade policy will make all the PM Mitra textile parks eligible to get benefits as common services providers.
Mr. Goyal said the Commerce Ministry is going to undertake a massive focused outreach to the world, either sectorally or country-wise, over the next four-five months, in tandem with the External Affairs Ministry and Indian missions abroad.
Commerce Secretary Sunil Barthwal said India's global share in merchandise exports and services exports is very low and must to grow to the range of 7% to 10%. "Even if there are gloomy forecasts about world trade, we should not feel down. Our exports should be relying on competitiveness rather than subsidies and we are getting into that mode now," he said.